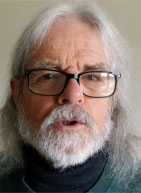 Karl Garson's writing includes poetry, opinion pieces, political commentaries and essays. Karl's third book and first novel, The Spanish Circus, is a work in progress.
The son of a German father and a French-Canadian mother, Karl grew up in a small, tightly knit Dutch community on the western shore of Lake Michigan. When he was a boy, he and his family spent every Sunday touring the back roads of Wisconsin. Those weekly road trips continued for a decade until the family moved to Milwaukee, an occasion celebrated by a three-month tour by car of all the states and national parks west of the Mississippi. These and hundreds of other road trips across America inspire his lasting love of travel and his commentaries on American life.
After living in more than a dozen states and three foreign countries, he lives on a farm west of Madison.
Karl graduated Milwaukee's Marquette University and served as a Naval Aviator in Vietnam, Japan and the Philippines. After his military tour ended, he enrolled in creative writing courses at the University of Wisconsin-Stevens Point, where he was mentored by writer/musician Mary Shumway. With Shumway's encouragement, Karl completed his MFA at the University of Montana. At U-M, Karl studied under Richard Hugo, an aviator-turned-writer and a student of the poet Theodore Roethke.
Karl taught creative writing and English for 15 years at U-W Stevens Point, Boise State University and the University of Arizona. After writing for the national horseracing newspaper Daily Racing Form, Karl united his literary and turf experiences by creating The Writers Project, featuring subject-driven writing workshops at horse racing tracks, farms and training centers in Idaho, Kentucky and New Mexico. Writers Project workshop leaders included Pulitzer Prize-winning poet Henry Taylor, John Dufresne and Gretel Ehrlich among others.
More recently, he has created Poetry, Lost and Found, weaving together jazz, poetry, literature and monologue to highlight the stories that are told in poetry and the everyday music of the American popular song.